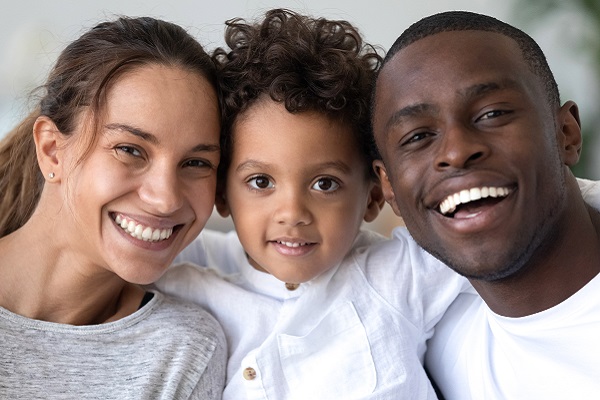 Visiting a family dentist should be a routine part of everyone's health and dental care. There are numerous reasons a patient may pay a visit to the office, such as minor decay, bruxism, routine cleanings, and more — but how often you truly need to go to the dentist can vary from patient to patient. Following these guidelines can help ensure that you maintain excellent oral health while decreasing your risks of developing many dental diseases.
When to see a family dentist
In general, most people should expect to visit a dentist twice a year. However, some people may need to schedule appointments more often depending on their specific needs.
For routine checkups and cleanings
Dental cleanings and checkups play an important role in oral health care. Experts have found that, for most people, twice a year is sufficient to keep tooth decay and gum disease under control when coupled with good oral hygiene. At these visits, the dentist can remove the plaque and tartar buildup that brushing and flossing alone cannot effectively eliminate. These can cause cavities and periodontal issues over time if not professionally removed.
At routine checkups, dentists also perform numerous evaluations to look for early signs of potential problems, such as decay, jaw issues, gum recession, and even oral cancer. Various techniques may be used to look for specific symptoms, including:
X-rays
Periodontal charting
Visual examinations
Dental probing
Photographs or digital imaging
Because dental checkups can lead to the early detection of serious conditions, they are very important and help prevent many patients from developing avoidable side effects.
While most patients only need to be seen twice a year, those with certain underlying conditions or existing dental health issues may need to see a family dentist more often. These may include expectant mothers, those with compromised immune systems, or people with diabetes or severe gum disease.
For dental emergencies
Some situations require a visit to the family dentist as soon as possible. A tooth that is extremely loose or knocked out may be salvageable with prompt treatment. Chips and cracks should also be addressed right away to help prevent potential infections. Patients who exhibit signs of a dental infection, including severe pain, oozing, swelling, or bleeding, should call a family dentist immediately.
For new or worsening dental symptoms
Even less serious symptoms that do not fall into the emergency category should still be discussed with a dentist. Sensitivity, pain, inflammation, and minor bleeding may clear up on their own within a few days. However, if these symptoms persist or worsen, it may be too long to wait until the next six-month checkup for evaluation. Dealing with cavities and gum disease sooner often gives patients more options for less invasive treatment.
Frequently asked questions about routine dental visits
Have you been delaying or avoiding your dental appointments? Perhaps you have a specific health issue that you feel needs more intensive maintenance. If you are unsure about how often to visit the dentist or have questions about getting started at a new practice, consider the FAQs below.
Can I transfer dental records to a new practice?
Yes, dental records can be transferred in the same way medical records are. Simply contact your previous dentist's office to give them permission to send your records to the new office.
Is it healthier to have teeth examined more than twice a year?
For some people, having three or four cleanings a year or conducting more frequent X-rays is not only healthier: it is essential. If you have an oral health condition, are prone to excessive plaque buildup, or struggle with a medical issue that affects your mouth, you may need to see your dentist more often than twice a year.
Conclusion
From routine evaluations to treating serious conditions, there are many reasons to see a family dentist. It is a good idea to make your regular cleaning and examination appointments in advance so that you do not forget to attend them. Likewise, do not wait too long to be seen when you are experiencing symptoms of a dental health issue or think you may have a dental emergency such as a chipped tooth, bleeding gums, or a small black spot on a molar.
Remember, some people need to have their teeth cleaned more often than others. Simply attending a routine appointment twice a year may in addition to brushing and flossing at home may not be enough for you. At your regular appointment, talk with your dentist about how often to schedule cleanings so you can maintain good oral health.
Request an appointment here: https://www.carmelsmilesdentist.com or call Smiles in the Village Dentistry at (317) 575-6101 for an appointment in our Carmel office.
Check out what others are saying about our dental services on Yelp: Family Dentist in Carmel, IN.
---
Related Posts
May 15, 2023
Most people are aware of the steps needed to ensure the health of their teeth and mouth. Brushing, flossing, rinsing, eating healthy, and making those all-important trips to the family dentist. …