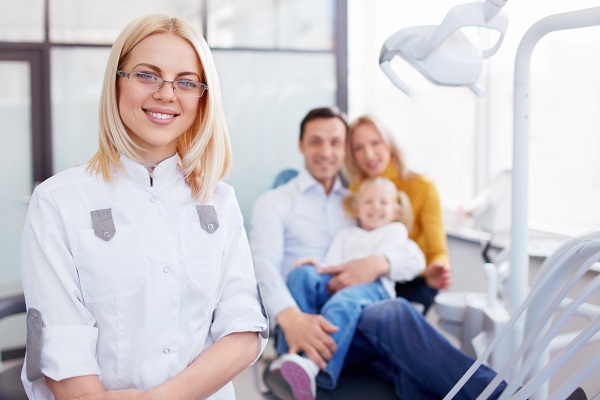 Most people are aware of the steps needed to ensure the health of their teeth and mouth. Brushing, flossing, rinsing, eating healthy, and making those all-important trips to the family dentist. The American Dental Association recommends two professional visits per year. With six months between visits, your time with your dental provider is not so frequent, so you should take steps to ensure that you get the most out of every visit.
How to maximize the benefits of your visit to the family dentist
Your dentist is your partner in maintaining the oral health of your entire household. Hold up your end of the partnership by preparing your family to get the most benefits from each visit.
Find a trusted family dentist
If you have children, using a family dentist will provide you with convenience and a number of important benefits. These professionals are trained to work with children, but your child does not have to stop seeing a beloved dentist after reaching the age of 18. Finding a trusted dental provider when your children are young will enable your family to build a strong relationship with one dentist and benefit from that professional's expertise and care for many years.
Make family appointments together
An added bonus of the family dentist experience is saving trips. Take advantage of having one dental provider in one location for all family members. When you schedule appointments for the whole family on the same day, you can save on gas mileage and time off work. The more kids you have, the more valuable this simplification becomes.
Write down questions ahead of time
If you have questions or concerns about any member of your family to address with your dentist, write them down ahead of time. Having this information in hand will ease anxiety and ensure you remember it in all the excitement of being in the dental office. Here are some good example questions to start your list:
Is my child flossing properly?
Does the tooth and jaw development look good?
What type of toothbrush should we be using?
Should we consider sealants?
Is there anything I should discuss with my child's medical doctor?
Do you have tips for proper brushing and flossing techniques?
Arrive early
You should always plan to arrive a bit early for your appointment, especially if you are a new patient or if you are bringing multiple family members for simultaneous appointments. The entire experience will be less anxiety-ridden if you have a buffer of time built in to your schedule.
Engage your children while you wait
Most dental offices include games and books for children in their waiting rooms. Making this step fun is an important part of building a healthy habit with the dental office. Do not be tempted to leave your children to amuse themselves. Read books to young children, or work with them on a puzzle to occupy them and guard against anxiety. If your family dentist has a policy of waiting in the car rather than a waiting room, plan with books, toys, or activities to engage your children while you are waiting.
Be open and honest with your dentist
Whether you are experiencing a toothache, struggling to get your youngest child to brush properly, or dealing with dental anxiety, it is critical to be honest with your dentist. Remember that the dentist and the office staff are skilled in dealing with all manner of behavioral and emotional issues related to teeth. Your dental professional will be able to provide a higher level of care when you engage in frank discussions about all of your family's oral health issues and concerns.
Treat your kids afterward
For young children or those with anxiety, a reward after the dentist's visit may help them by linking the experience with something positive. A reward can also encourage good behavior and make the dental visit go more smoothly. Just be sure to align the reward with the objectives of the visit; you do not want to cap off a successful dental appointment with a bag of sugary candy!
Conclusion
The family dentist is a lifelong partner in the oral health of your entire household. Establishing healthy habits and a positive relationship with your chosen dental professional can lead to years of productive dental visits that will keep everyone's mouth healthy for life. Your twice-yearly visits to the family dentist do not have to be something you dread. Implementing these suggestions can help to lessen anxiety, increase the effectiveness of the dental visit, and maximize your family's benefits from dental appointments.
Request an appointment here: https://www.carmelsmilesdentist.com or call Smiles in the Village Dentistry at (317) 575-6101 for an appointment in our Carmel office.
Check out what others are saying about our dental services on Yelp: Family Dentist in Carmel, IN.
---
Related Posts
September 19, 2022
Visiting a family dentist should be a routine part of everyone's health and dental care. There are numerous reasons a patient may pay a visit to the office, such as minor …