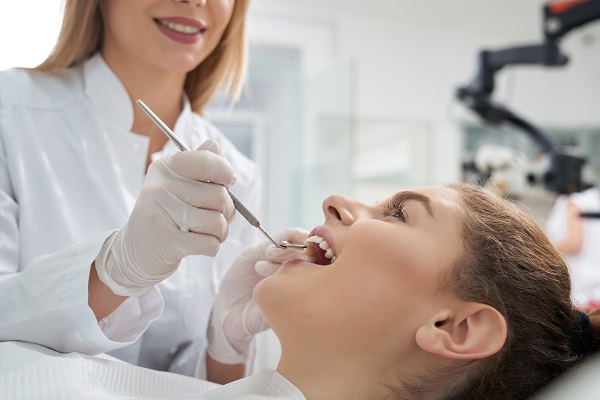 Full mouth reconstruction is needed when most of your teeth need to be repaired. Various dental treatments are used as part of a reconstruction. The full mouth reconstruction process is unique for each patient since no two sets of teeth are the same. The function of all of the patient's teeth should be restored by the time the reconstruction process is completed.
Restoring teeth with crowns during full mouth reconstruction
Crowns are one of the most versatile restorations used in dentistry, and they have many uses. Crowns can be used to restore the function of teeth, prevent teeth from further damage, and restore the appearance of damaged teeth.
Crowns provide a long-term solution that does not require any special maintenance and can last over 25 years with proper care. Some of the ways dental crowns are used during full mouth reconstruction include:
To save severely decayed teeth
To make crooked teeth appear straighter
To protect worn-down teeth from further damage
To protect chipped, broken, or fractured teeth
To cover up infected teeth after root canal therapy
As abutments for dental bridges
As artificial teeth that are placed on dental implants
How dental crowns are placed
Dental crowns are typically recommended when less invasive restorative procedures — like the application of composite resin or fillings — are no longer options. A dentist will typically remove enamel from the sides of teeth being treated with crowns to create a better fit for the restoration. The snugger the fit, the less likely bacteria and other irritants in the mouth will be able to get to the tooth being protected.
Restoring a tooth with a crown starts with the dentist administering a shot of a local anesthetic. This numbs the tooth being treated, so the patient does not feel pain as the dentist shaves off portions of enamel from the tooth.
Once the tooth has been prepared, the dentist will take an impression of it by having the patient bite down on a mold or using digital photos to create a digital impression. The impression is sent to technicians in a lab who make restorations. It typically takes a couple of weeks for the finished restoration to get back to the clinic.
The prepared tooth is covered with a temporary crown after the first visit to serve as its artificial enamel while the patient waits for their customized restoration. The dentist keeps it in place with temporary cement so it can be easily removed during a second appointment.
The patient comes in for the second part of the treatment once their custom crown is ready. The temporary restoration is removed and replaced with custom crowns. Alterations are made if needed before cementing the crown in place permanently.
Frequently asked questions about full mouth reconstructions
Still have some questions about full mouth reconstruction? Let us go over the answers to some commonly asked questions:
1. What else might full mouth reconstruction involve besides dental crowns?
Full mouth reconstruction can involve any of the restorative and cosmetic treatments used in dentistry. The goal of the procedure is to restore the function and appearance of the patient's teeth using all available tools.
A typically full reconstruction combines multiple treatments to restore the patient's teeth. The patient's teeth, jaw muscles, temporomandibular joints, and periodontal tissues are carefully examined to determine which treatments are most appropriate for the patient. Examples of procedures that might be a part of full mouth reconstruction include:
Root canal treatments
Bone or gum grafts
Deep cleaning
Teeth straightening treatments
Composite bonding
Missing teeth replacement
2. Who needs full mouth reconstruction?
Full reconstruction treatments are for anyone with diverse dental issues that require a detailed plan to address. Such people typically have issues like worn-down teeth, missing teeth, damaged teeth, or bite issues. They might also have mouth infections like gum disease.
The process can take months to complete since it addresses different types of issues like bite alignment issues, missing teeth, and damaged teeth. For example, replacing a missing tooth with a dental implant can take up to six months from start to finish. The treatments used for full mouth reconstructions are strategically timed, so each treatment is performed at the most appropriate time.
Do you need a full mouth reconstruction?
A dentist might recommend dental crowns as part of your full mouth reconstruction if you have damaged, worn down, decayed, or missing teeth. Contact our dental office to learn more about how we can restore your smile.
Request an appointment here: https://www.carmelsmilesdentist.com or call Smiles in the Village Dentistry at (317) 575-6101 for an appointment in our Carmel office.
Check out what others are saying about our dental services on Yelp: Full Mouth Reconstruction in Carmel, IN.
---
Related Posts
February 7, 2022
Investing in full mouth reconstruction will pay off in different ways and for the rest of your life. For starters, the treatment restores the health, function, and aesthetic of your smile. This …