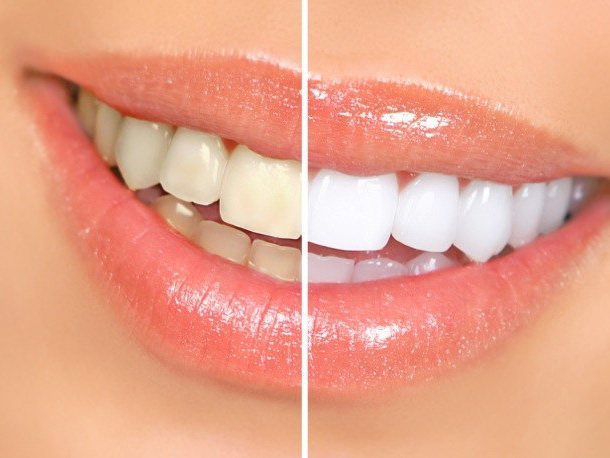 Reviews
---
On this page, you can read some of the reviews our patients have left in the past. We thrive on feedback from our patients, and encourage you to share your experience with us, at any stage in your treatment. If you have the time to leave us a review, please click on the Google+ button to the right. Thank you for taking the time to evaluate us!
Actual Patient Reviews
from around the web & our Social profiles


Smiles in the Village Dentistry
I hadn't been to the dentist in years, so you can imagine my apprehension upon hearing that I had multiple cavities, one of them in a wisdom tooth that subsequently needed pulled. However, any apprehension I had was soon laid to rest as the fillings and tooth extraction were beyond smooth. I felt virtually zero pain and discomfort, not even during the numbing phase. Dr. Arazi, or as I refer to him now, Dr. Precision, saved me from two root canals and I have now found my family dentist. The dental assistant, Betty constantly looked after my comfort and her services were invaluable to seamless treatment I received. If you can call dental work pleasant, then that's exactly what this was!
Smiles in the Village Dentistry
After moving to the Indy area it took me a while to think about finding a dentist even though I was far overdue for a visit. Dr. Arazi was suggested to me and I couldn't be happier with the work he and Betty have done for me so far. Even though my mouth was a bit of a mess I never felt judged and they made what seemed to be complicated dental procedures easy to deal with. Both Dr. Arazi and Betty are caring, compassionate, and great at what they do. Go see them!
Smiles in the Village Dentistry
Dr. Arazi has been my dentist for over 10 years now. Before seeing him, I went 7 years without seeing a dentist because of the horrible experience I had in college. Dr. Arazi understood my fear and has always been super gentle with me, always checking on my comfort. He is an amazing doctor who cares about his patients. I travel 45 minutes to have him as my dentist, and I wouldn't have it any other way.
Smiles in the Village Dentistry
The whole family has been in. Everyone was happy. Even the 3 and 7 year olds. Dr. Arazi was patient, caring, and very very nice. His assistant, Betty, was fabulous. I felt that we all got the care we needed. He clearly walked us through what care we needed and why. He did not push additional work or goods. Dr. Arazi clearly keeps up on the latest dental literature for the best and long lasting results possible. A trustworthy and honest dentist.
Smiles in the Village Dentistry
Everything about my experience with Dr. Arazi was perfect. Scheduling is a breeze, and they got me in right away. Dr. Arazi's do-it-all receptionist/assistant, Betty, is so friendly and really made me feel comfortable. Also, his pricing was the most reasonable of all of the dentists that I consulted with! The consultation went really well and I felt that Dr. Arazi really tried to understand what I wanted rather than just telling me what I wanted like some of the other dentists I've seen have. Well, I scheduled the surgery right then and there, and 2 weeks later I was in the chair ready for my surgery. I felt that Dr. Arazi was very skilled and takes pride in his work. Even though I was completely freaking out, both Dr. Arazi and Betty did their best to make me comfortable. Overall, my experience was great even though the procedure was obviously not pleasant, and now I have beautiful new teeth. I still have to go back for my permanent crowns, and I'm sure that I will be just as satisfied with those as well. I would highly recommend Dr. Arazi for implants as well as general dentistry.
Smiles in the Village Dentistry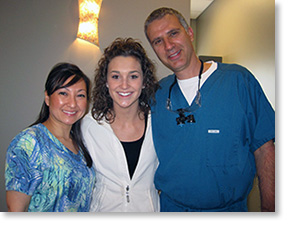 Emily was born without 2 permanent lateral teeth. So after many years of braces and fake teeth in a retainer, her teeth implant process is done! We can't thank Smiles in the Village Dentistry in Carmel enough. Dr. Arazi and his assistant Betty are the best! He had to do some precise work since the roots of her teeth were angled towards each other making it difficult to place the post in her jawbone. Dr. Arazi treated Emily like his own daughter as his daughter (17 years old also) is just like Emily with no laterals! Doesn't her smile look great and so natural! I would go to no one else! THANK YOU DR. ARAZI AND BETTY!!!