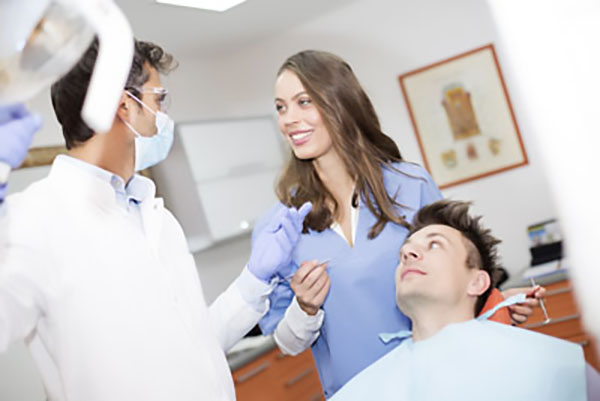 There are several situations where a patient may need to undergo oral surgery in order to address a dental health issue or to make a cosmetic alteration to the mouth. While some types of surgery may require collaboration with an oral and maxillofacial surgeon, there are several procedures that can be performed right in the general dentist's office. Patients can experience a number of advantages by having their regular dentist perform any needed oral surgery.
Benefits of visiting a general dentist for oral surgery
For many patients, the word surgery sometimes leads to feelings of anxiety, but having a procedure done by a dentist they know and trust can make the process feel less intimidating. Additionally, the dentist may already be familiar with the patient's medical history and overall dental health. Many people also enjoy the convenience of being an established client and not having to go through the process of registering as a new patient at a separate office and filling out excessive paperwork. Rather, all steps of the procedure can occur at one familiar place where the individual is already comfortable.
Surgical procedures a general dentist can perform
While the services a dental clinic offers vary from office to office, many general dentists perform specific types of cosmetic, restorative and maxillofacial surgeries.
Cosmetic procedures
Much of the work dentists do is both restorative and cosmetic in nature, but there are several types of treatments a dentist may carry out that help a patient achieve a more attractive smile. Porcelain veneers are used to reshape the teeth and enhance their appearance. A dental crown covers a tooth completely and restores function to a tooth that is damaged or worn. A bridge can be used to replace missing teeth by using a prosthetic that is supported by abutment teeth. All of these require alteration to the natural teeth beforehand, such as reshaping and grinding.
Restorative procedures
If a patient has severe periodontal disease or an infected tooth root, there are a variety of surgeries that can be used to remove diseased tissue and restore the tooth. One of the most common processes dentists perform is a root canal. This procedure involves drilling into the tooth and removing the diseased pulp before resealing the area.
Maxillofacial procedures
The two main types of oral surgery that may be offered by a general dentist include tooth extraction and dental implants. The removal of wisdom teeth is a common course of treatment that can often be carried out by a dentist. While some practitioners only perform part of the dental implant surgery, others often complete the entire process.
Conclusion
Most patients receive a recommendation for oral surgery from their dentist during a routine checkup. If the office provides that specific treatment, the dentist usually presents that option to the patient. This gives the individual the benefit of working with someone trusted and familiar. If the treatment is not offered, the dentist makes a referral to another type of dental provider who can perform the surgery.
Request an appointment here: https://www.carmelsmilesdentist.com or call Smiles in the Village Dentistry at (317) 575-6101 for an appointment in our Carmel office.
Check out what others are saying about our services on Yelp: Read our Yelp reviews.