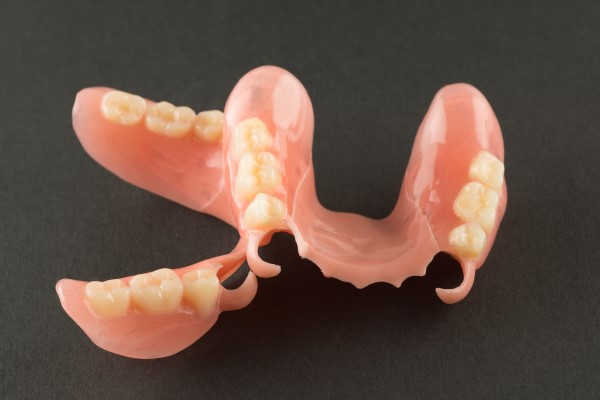 For tooth loss, partial dentures are a good treatment option. This appliance not only revives your smile and appearance, but it can have health benefits as well. Your dentures allow you to chew effectively again and eat healthy foods. Replacing missing teeth will also help to prevent additional tooth loss and bone loss. A partial set of dentures will not last forever. There are times when you will need to see the dentist to repair them.
A summary of partial dentures and how they work
A full set of dentures replaces all of the teeth in a person's mouth. The partial counterpart will replace a few or several missing teeth. There is an acrylic base that is made to be the same color as natural gums. Attached to it are ceramic or porcelain artificial teeth. The base rests over the gums, where there is a gap left by the missing teeth.
Some types of these dentures are removable. Other varieties are secured to dental implants. The dentures can help give the person good self-esteem and no longer feel embarrassed about having missing teeth. The apparatus can last up to 10 years with good care and maintenance.
When the base cracks
Just like natural teeth can suffer damage, partial dentures are subject to different issues. One of the most common is when the base cracks. This can occur when the person mishandles the dentures or drops them onto a hard surface. Biting into something hard can have the same effect. A cracked base is a serious problem that requires the dentist's prompt attention. It is possible to fix a crack if the dentist addresses it before it gets too large.
When teeth fall out
Partial dentures may replace natural teeth, but they can also become dislodged. This often happens when the person pulls them out by eating something sticky or chewy. A hard blow to the face or a fall can also knock out one of the artificial teeth. This will make it difficult for the person to chew effectively. It will also leave an unsightly gap in the mouth, so the dentist might be able to place the tooth back into the base. If this is not possible, the dentist will have to fabricate another tooth.
For periodic maintenance
Wearing partial dentures should not preclude the person from seeing the dentist for regular checkups. Not only does the patient have any remaining natural teeth to care for, but the dentist can examine the dentures. It is helpful for the dentist to perform routine maintenance on the dentures. This includes a cleaning, adjustments, or any minor repairs.
Keep your dentures in good condition
If you recently got partial dentures to replace missing teeth, you have a big responsibility. Proper care and attention will help these dentures to last a long time. If you break them in any way, make sure to let the dentist know as soon as possible. Fortunately, the dentist can take care of most issues and restore the functionality of your dentures.
Are you considering partial dentures in the Carmel area? Get more information at https://www.carmelsmilesdentist.com.
Check out what others are saying about our dental services on Yelp: Dentures and Partial Dentures in Carmel, IN.
---
Related Posts
June 1, 2023
Partial dentures are a popular replacement option for missing teeth. You could potentially benefit from them if you have lost some of your permanent teeth, but there are still some healthy …