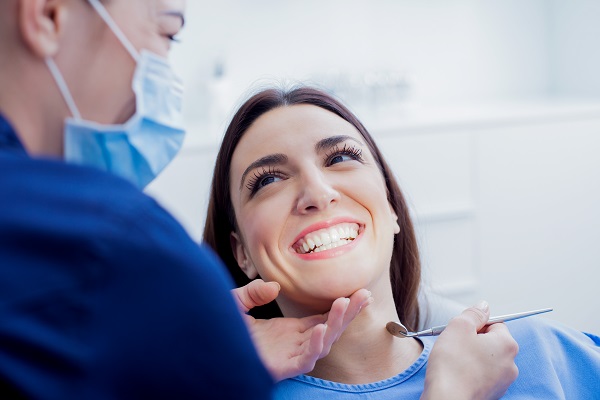 General dentists recommend going for regular teeth cleaning every six months. These visits are essential to maintain the best overall oral health possible. A professional tooth cleaning is one of the most basic steps you can take to keep your mouth healthy.
At these visits, your dentist and hygienists will thoroughly look over your teeth and gums. They will look for signs of bleeding and tenderness, which are the root causes of gingivitis. They will use mirrors to see all the hard-to-reach places and make sure you are doing everything at home to keep up with your oral health.
What happens at a routine tooth cleaning?
The thought of going to the dentist makes many people uncomfortable. Routine teeth cleaning is necessary to keep your teeth and gums healthy. If you maintain a proper dental routine at home, going to the dentist is an easy task.
For some, knowing what is going to happen at cleaning can help put some fears to rest. Most patients have a fear of the unknown when it comes to dental appointments.
A dental hygienist usually is the one doing the initial exam and the cleaning. The hygienist will look over your teeth and gums and use a mirror for the hard-to-see places.
A scaler is used to remove plaque and target. This process will be much less intrusive if you have a good dental hygiene routine, including flossing.
Deep cleaning is done using an electric brush to be sure the cleaning is thorough. This is usually done with gritty toothpaste to allow the brush to get a good scrub.
The hygienist will do professional flossing.
The cleaning will conclude with a rinse and then add a stay-on fluoride treatment.
What is gingivitis?
Gingivitis is the earliest form of gum disease. There are several symptoms of gum disease.
Puffy or bleeding gums
Bad Breath
Pain and sensitivity
If left untreated, gingivitis can lead to receding gums and tooth loss. Gingivitis is very common among adults, even though it is easily preventable with proper dental care. Please be sure to go for your teeth cleaning every six months as dentists recommend.
Can teeth cleanings prevent cavities?
If you go to the general dentist every six months for your teeth to be clean, you can catch and stop a cavity at its earliest stages. Cavities form when debris from food is left in your mouth in hard-to-reach places. This debris turns to acid and breaks down the tooth enamel to form a cavity.
By going to the general dentist regularly, you increase the odds of your general dentist finding a cavity right away and treating it. The earlier a cavity is treated, the better chance you have at maintaining the tooth's health.
Everyone should follow their general dentist's recommendations when it comes to their dental treatment. Make and keep your appointments for all your dental work, whether a cleaning, a filling, or if you are experiencing any dental issues. Always consult your dentist.
Request an appointment here: https://www.carmelsmilesdentist.com or call Smiles in the Village Dentistry at (317) 200-3679 for an appointment in our Carmel office.
Check out what others are saying about our dental services on Yelp: Dental Cleaning and Examinations in Carmel, IN.
---
Related Posts
July 7, 2021
A dental cleaning is a common dental procedure that involves removing plaque and tartar build-up along the gum line, between teeth, and on the visible surfaces of teeth. The process is minimally …