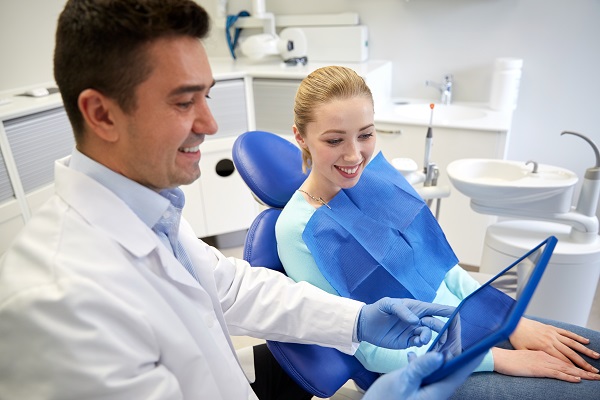 Learning more about implant dentures is necessary if you are interested in choosing this popular denture option.
While this type of denture is more commonly chosen nowadays because they keep dentures exactly where they are supposed to be, there is a process in place. A patient must first be approved to undergo the process. Once approved, it is necessary for them to undergo the surgical process of having dental implants placed in their mouth.
Why choose implant dentures?
Wondering why implant dentures are so popular nowadays? Also known as overdentures and implant-supported dentures, this denture choice is commonly chosen due as they are held securely in place using dental implants. Dentures that move around in the mouth and even slip out of the mouth are a common complaint among denture wearers. Implant dentures address this problem by using implants that hold the dentures securely in place.
What to ask at your implant dentures consultation
The following is a list of important questions everyone should ask during their consultation appointment when interested in getting dentures that stay in place using dental implants.
Is it possible for implant dentures to slip or fall out?
While it is very unlikely that implant dentures will slip when someone is talking or eating, it could potentially happen. The chances of dentures moving around in the mouth or causing any problems are going to be significantly reduced when choosing implant dentures. That is why more people are making this choice nowadays.
Is it necessary to use denture adhesives?
Unlike other types of dentures that require wearers to use some type of adhesive in order to keep the dentures properly in place, this is not necessary when choosing implant-supported dentures. It is the job of the dental implants to keep this type of denture in its proper place, which also provides necessary jawbone stimulation.
Does getting dental implants hurt?
The process of getting dental implants placed in one's mouth is a surgical process, which is going to cause some discomfort and/or pain. The procedure does not take very long to perform and requires a dental professional to make a small incision in the gum line in order to insert the implant into the jawbone. It will take many months for the implants to completely heal.
Is it true that it is easier to eat and drink with implant dentures?
Yes! Because this type of denture is held securely in place using dental implants, it is easier to chew food and drink beverages. While there is a learning curve when it comes to eating with new dentures, those who make this denture choice will be able to consume foods and beverages easier within a few short weeks.
Ready to start the process?
Ready to learn more about implant dentures? Because this denture choice includes placing implants in your mouth, we advise you to make a consultation appointment. This appointment as important as you will learn everything there is to know about choosing this type of denture.
It may be a good idea for you to write down all the questions you have, so you do not forget to get the answers you need to make a decision that is right for you.
Request an appointment here: https://www.carmelsmilesdentist.com or call Smiles in the Village Dentistry at (317) 575-6101 for an appointment in our Carmel office.
Check out what others are saying about our services on Yelp: Read our Yelp reviews.
---
Related Posts
September 15, 2023
Getting a smile makeover can transform your smile and your life. Aging, decay, and trauma contribute to the dullness of your smile. Decades ago, this would take some time to correct. …