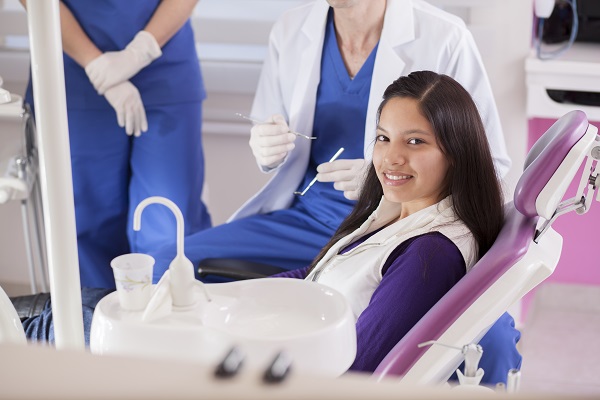 Before undergoing a dental restoration, it is important to learn about dental crown types. Understanding the types of dental crowns makes it easier to choose the right one. Learn about your options, so you can make a selection.
Dental crown types
Many people are surprised by the vast number of dental crown options. Options are based on the material used to make the crown.
Metal dental crowns
Crowns can be made of various metals, including nickel, gold and palladium. These crowns are the strongest option. They are resistant to chipping and cracking, making them last longer. Also, dentists do not have to remove as much of the natural tooth to fit these crowns.
While metal dental crowns have lots of benefits, some patients do not like the way they look. Metal crowns do not match the natural teeth. However, these crowns can be a good choice for those who need a crown placed on a top tooth in the back of the mouth.
Ceramic or porcelain crowns
Many people choose ceramic or porcelain crowns because this option matches the natural teeth. Also, these crowns can be made at a dental office using milling technology, so patients do not need to wear a temporary crown. Ceramic and porcelain crowns are not as strong as crowns that contain metal. These crowns can also harm the teeth located next to them.
Porcelain-fused to metal crowns
Those who want the strength of metal and the look of porcelain can get porcelain-fused to metal crowns. The crowns contain a metal structure that provides strength and a porcelain exterior that looks like natural teeth.
All-resin crowns
Some people prefer all-resin crowns due to the cost. While these crowns do cost less than the other options, they are also not as durable. All-resin crowns are more likely to break or wear down when compared to other choices.
Pressed-to-metal crowns
Pressed-to-metal crowns have a metal center and a synthetic ceramic shell. The synthetic porcelain often contains lithium disilicate. Because the ceramic is synthetic, it is much stronger than the ceramic on other crowns. It puts less stress on surrounding teeth and it matches the natural color.
These types of crowns are relatively new, so research is still being done. The overall durability and success rate of these crowns are being studied. Patients should consult with their dentists before choosing one of these crowns.
Preformed dental crowns
Preformed dental crowns are the most basic of the crown types. While other crowns are manufactured for the patient, preformed crowns are made in various sizes and the dentist chooses the one that offers the closest fit and color match. These crowns are often fabricated out of polycarbonate, dental composite or dental ceramic, although stainless steel is also an option. Preformed dental crowns are not a permanent solution. Instead, dentists use these crowns to protect the tooth while waiting for the permanent crown to come back from the lab.
Choosing from dental crown types
Choosing the right dental crown can be difficult. You do not know if you need metal, ceramic or one of the other options. Your dentist will examine your mouth and help you choose the crown that is right for you.
Request an appointment here: https://www.carmelsmilesdentist.com or call Smiles in the Village Dentistry at (317) 575-6101 for an appointment in our Carmel office.
Check out what others are saying about our services on Yelp: Read our Yelp reviews.
---
Related Posts
September 15, 2023
Getting a smile makeover can transform your smile and your life. Aging, decay, and trauma contribute to the dullness of your smile. Decades ago, this would take some time to correct. …