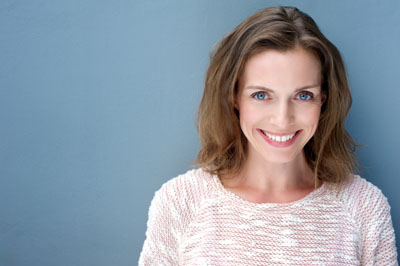 As a teeth whitening dentist in Carmel we can remove the deep stains and discoloration that turn a bright and beautiful smile into one that appears dull or aged. Yellow or stained teeth generally make a person look far older than they are. As a cosmetic dentist, we have seen people in their twenties look a decade older simply because their daily coffee habit gives their teeth a yellow sheen. White teeth are associated with youth, good health, and an attractive appearance, all reasons that you should consider whitening yours if they are no longer as bright as they used to be.
When you decide to whiten your teeth, you have several available options. The most important one you will make is whether to buy a kit from the store or to visit a cosmetic dentist. We highly recommend that you visit our Carmel dental office for several distinct reasons. Our solution is professional grade and much stronger than anything you can buy in the store. It is designed to penetrate your enamel, removing the deep stains and discoloration from within your teeth. What you buy in the store will typically only remove the surface stains. As a result, many people are disappointed with the results that they receive from a DIY kit and end up visiting our office for the procedure anyway. Also, the kits that you buy in the store do not fit as well since they are designed to fit everyone – not you specifically.
As a teeth whitening dentist, we have two main ways to whiten your teeth and we recommend that you first have them cleaned. Removing the plaque and tartar from your teeth will allow the whitening solution to truly penetrate your enamel. We can then whiten your teeth in our cosmetic dentist office for fast and immediate results. This is often preferred by patients that are looking to whiten their teeth in time for a special event like a wedding or job interview. If you would prefer to whiten your teeth from the comfort of your own home, we can assist with that as well. To do so, we will make an impression of your mouth and take measurements. This information will be sent to the dental lab to create custom trays. The trays look similar to a retainer because they surround your teeth. We will give you the solution to use and by placing it in a tray, you can whiten your teeth on your own schedule. The results will be greater than at-home kits and the at-home kit commonly takes longer to produce results.
When you visit our office we can explain your options in further detail. The thing to remember is that if you want dramatic results that will improve your smile, you should visit a teeth whitening dentist.
---