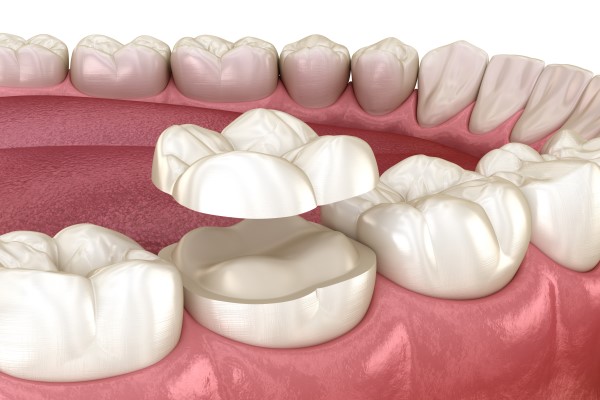 If you have broken, cracked, worn, or missing teeth, dental crowns may be used to help restore the look and function of your teeth. If you are unfamiliar with what crowns are and how they work, this guide will help.
Dental crowns
Dental crowns are teeth-shaped caps that go over a tooth or a dental implant. Once in place, crowns completely cover the portion of the tooth that is visible above the gum line. In addition to rebuilding the tooth, this cap helps to prevent bacteria (plaque) from causing further decay.
Dental crowns are used in a variety of ways to restore the appearance and function of teeth:
Prevent a weak tooth from breaking
Support a tooth with a large filling
Cover stained or misshapen teeth
Change the appearance of a tooth
Restore severely worn or broken teeth
Anchor a dental bridge
Cover a dental implant
What types of crowns are there?
Crowns come in permanent and temporary versions and can be made from a variety of materials.
1. Stainless steel
These are prefabricated crowns that are mostly used as temporary crowns. These crowns help protect a tooth while the permanent crown is being made.
2. Metal
Crowns made from gold, platinum, or base-metal alloys withstand biting and chewing well and are slower to wear down than many other types of crowns. These crowns also rarely break or chip. However, some patients dislike metallic colors.
3. Porcelain-fused-to-metal
Unlike metal crowns, these crowns can be color-matched to the patient's natural teeth. Except for all-ceramic crowns, these crowns look the most like natural teeth. However, sometimes the metal portion can be seen around the gumline, particularly if the gums recede. These crowns wear faster and are more likely to break or chip than metal crowns. They are often used as anchors for bridges because the metal adds the necessary strength.
4. All-resin
These crowns are less expensive than other types but wear faster. They may also break more easily.
5. All-ceramic and all-porcelain
These materials provide the best match to the color of natural teeth and may work for patients who have metal allergies.
What happens during the procedure?
The process of getting dental crowns usually requires two visits, though some dental offices offer same-day crowns. During the first visit, the dentist examines the teeth and may take X-rays. If the patient does not need additional treatments, such as a root canal, before the crown procedure, the dentist then prepares the tooth to receive the crown by taking an impression to be used for manufacturing the crown. Same-day crowns are manufactured on-site and then applied the same day. Traditional crowns are manufactured in a lab and the patient returns for a second visit to have them applied.
Conclusion
Dental crowns are a common treatment used to improve the look and function of damaged, misshapen, or missing teeth. Crowns are available in a variety of materials to suit your budget and aesthetic preferences and can be applied in one or two visits.
Request an appointment here: https://www.carmelsmilesdentist.com or call Smiles in the Village Dentistry at (317) 575-6101 for an appointment in our Carmel office.
Check out what others are saying about our dental services on Yelp: Dental Crowns and Dental Bridges in Carmel, IN.
---
Related Posts
February 1, 2023
Whether you need a root canal or have decay, your dentist may recommend you get a dental crown. However, you might be wondering what a dental crown is. A crown can …