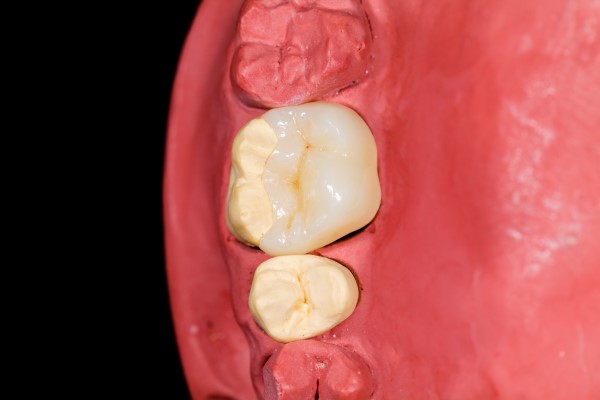 A dental onlay might be the right choice when you have a damaged or decayed tooth. Other options are available, and the dentist may consider any number of treatments. But as you learn more about onlays, you may see the benefits and why this is the right course for you to getting a new smile. If you do get onlays, you will want to get the most out of them. With some basic steps, your onlays can last longer.
A description of a dental onlay
Dental onlays are an effective way to improve smiles and the health of the patient. An onlay is a pre-fabricated dental device that dentists can use on cavities, chips, cracks, and fractures. The dentist makes the onlay outside of the mouth instead of inserting a material in the tooth and filling it in. By making it this way, the dentist can ensure that it is the right size and shape for the person's needs. It extends over the cusps on the tooth.
Patients love onlays because they do not stand out in the mouth. Onlays blend in nicely because this device can match the color of the surrounding natural teeth. The dentist can make it the right color shade, as the onlay is made of ceramic, porcelain, or composite resin.
Let the dentist examine the onlay regularly
Onlays can last up to 10 years, but the device may start to wear out without the patient noticing at first. If problems arise without the person's awareness, more serious issues may develop before too long. Seeing the dentist will help to ensure that any concerns do not turn into something more drastic. At each appointment, the dentist will inspect the onlays to make sure they are working correctly. The dentist can also make any necessary adjustments or repair flaws or damage.
Stay diligent about oral health care
Having a dental onlay in the mouth is not a reason to stop caring about good oral hygiene habits. People with onlays should be just as vigilant about brushing and flossing as people who do not have this restoration. Forgetting to brush and floss frequently can cause cavities and infections. This will not only hamper the tooth but could affect the quality of the onlay.
Be wary of foods and beverages
Certain foods can be enemies to a dental onlay. Sticky foods such as gum can pull out an onlay. Hard foods such as candy, ice, popcorn, and nuts can break the onlays. Limit these items, and where possible, avoid them. Damaging or losing a filling can be a big concern.
Your onlays can last for years to come
When you invest your money and time into a dental onlay, you want to make sure it lasts as long as possible. Though the onlay will eventually wear out, it should be able to work effectively for many years. If you are worried about its life span, there are ways to make it last longer. Following these tips is a good place to start.
Are you considering a dental onlay in the Carmel area? Get more information at https://www.carmelsmilesdentist.com.
Check out what others are saying about our dental services on Yelp: Dental Restorations in Carmel, IN.
---
Related Posts
March 15, 2023
People who are diligent with oral hygiene may still experience tooth decay or damage that requires dental restorations. Even what may appear to be minor damage should be addressed and repaired …